China and Australia to launch new round of tariff cutsin 2019
Views:4285 Author:Weida Li Publish Time: 2018-11-09 Origin:gbtimes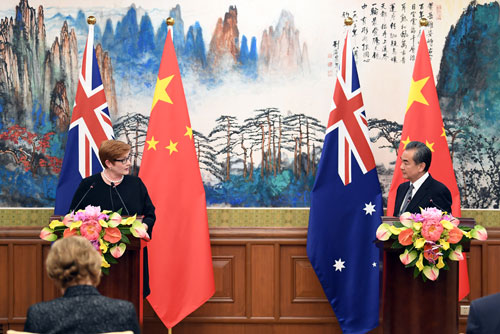 China and Australia agreed on Thursday to launch another round of tariff cuts in 2019, essentially ending trade restrictions between the two countries.

The agreement was reached at the fifth China-Australia Diplomatic and Strategic Dialogue, which was attended by State Councillor and Foreign Minister Wang Yi and Australian foreign minister Marise Payne in Beijing.
The first round of tariff reductions between the two countries took effect almost three years ago, Wang said at a press conference after the meeting, before adding that China had never adopted a unilateral protectionist policy in terms of trade. "Instead, China welcomes more quality goods from Australia entering the Chinese market," he said.
Payne, in turn, told reporters that Australia recognised the importance of welcoming Chinese investment, saying it had grown strongly over the past five years.
This was the first strategic dialogue since Australia's new government took office, and therefore an important meeting given the unpredictable nature of bilateral ties in recent years.
Wang then stressed his hope that Australia would understand both China's development path and its strategic intentions, and that they could work together to eliminate the 'mutual trust deficit'.
In terms of cooperation with Pacific island nations, the Chinese foreign minister said Beijing and Canberra should be partners rather than rivals.